The Tarptent Protrail is an amazing tent.  Why?  Oh, I'll tell you why.
Weight
Let's start off with the important part:  It weights just over a pound.  One.  Pound.  For reference, my other tent weighs in at four pounds.  Having this thing in my pack opened up options for me not only because it also occupies less space, but because suddenly I had more weight to work with.  What can I add on top of my existing gear?  Maybe I can take that nifty new solar charger with me this time!  Maybe I can just leave it at that and go in lighter than ever!  Point being, shedding pounds off your base-weight is always an exciting occasion for a backpacker.
So why is it so light?
A few reasons come in to play, but the major one is it does not require the use of your typical tent poles.  Instead, it uses your trekking poles.
This was very exciting for me.  When I was younger I would silently judge people who used trekking poles, but after working the labor sect for a while, my knees aren't what they used to be.  It's not like I'm writhing in pain at every step, but they are noticeably hating me when I go downhill every so often.  Not to mention I'm going to need them during my inevitable adventures in the snow.  So this excited me again because I love things with dual purpose.
The other reason the Protrail is considerably lighter is because it's a single-wall tent.  Meaning you don't have two layers of tent: One layer being the mesh bug-net stuff, the other being the rain-sheet (or tarp) that drapes over it.  This is literally a tarp turned tent.  The walls and vestibule are rain-resistant, and you have a nice mesh along the front, back, and along the sides of the tent above the bathtub flooring.  This cut-back in material really helps in the weight department.
Setup
The other benefit to this tent is the setup time is disgustingly fast.  I'm talking one or two minutes.  You just anchor the back down into the ground, set up one pole in the back, then do the same for the front and it's up.  If for some reason it's not taut enough, the front end comes with a rope you can either tie to a tree or – what I usually do – steak that to the ground too for some extra ground stickage.
(Not my video)
Setup is quick and easy, but it has its downfalls.  For one, you do have to adjust it a little bit.  The adjustments are super easy, but it can become a pitfall where you're obsessing over every crease in the tent.  I tend to do this which tacks on an extra minute to setup time if I have the minute to spare.  The plus-side here is each time you set it up, you learn a little more about it.  The first set up I did took me around 15 minutes just to figure everything out.  Second one was only two minutes.  I anticipate less time on my next go at it.
If you want to go the extra mile, the tent has little tabs on the side that you can stake down as well.  I would recommend tying a little bit of paracord to these so you stake the paracord down instead of the tabs directly.  Not only does this add extra anchors for you, but it also allows you to keep the tarp down on the ground for extra rain and wind protection should you need it.  A good example of this is how Rick from HowToWilderness has his set up seen here.
Weather
I took this on my recent trip to Kings Peak in Utah, and things got a little stormy.  I can't account for the wind as I wasn't at my camp site at the time of the storm, but it did rain and hail quite a bit, and everything was in tact when I got back.  The thing wasn't even completely taut either.  All my gear was completely dry, no water splashed in through the open sides, nothing.
Not only that, despite being a single-wall tent, I had no problems with condensation.  For those of you who are new to even camping in general, just about every tent can become pretty wet inside due to your warm breath in the cold air of the night.  People generally don't complain about this because they have a two-wall tent where the moisture just drops down on the netting and rolls away.  With single-wall tents, nothing protects you from this and you risk getting your stuff wet inside.  There are things you can do to combat this such as not camping next to a lake, parking your tent under healthy trees (don't camp under dead tress unless you want to risk sharing the same fate as the tree).  I exercise this when I can, and so far it's been working.  The potential remains however.
This tent also breathes amazingly well.  With ventilation at the front, back, and sides, you're not going to get too hot in here.  This also helps with the condensation problem.  If things get colder, you can close up the back vent, pin down the sides of the tent, and seal up the vestibule.  Keep in mind that this is a three season tent, while there are things you can do to warm it up in the winter, it may not do so well out in those conditions.  I'm definitely putting this to the test when I can though.
Space
Space is a-plenty in this thing.  You could even squeeze another person in there (as long as you love them enough to spoon them) if you wanted to.  For me, I had enough space for myself along with a decent amount of gear with room to spare.  I even considered throwing my pack in there as well, it probably would have fit.  The footprint of the tent is pretty reasonable as well, for a tent that feels super-roomy inside, it doesn't occupy too much space on the outside.
The Negatives
So far, the only thing I don't like about it design-wise is the front vestibule is kind of hanging free to blow around in the wind whenever it wants.  Not only does this create a problem in the rain, but it also scares the shit out of you at night.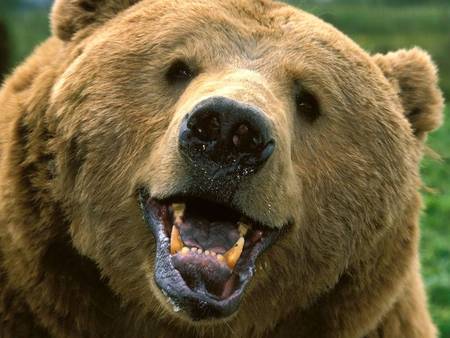 Every time it happened I thought a bear was trying to invade my tent.  It's irrational fear to be sure, but I'm going to have to figure something out to get it to stay put.  I'm thinking of maybe winding the front guy-line under the vestibule to act as a support or something.
The only other thing that isn't so much a complaint (I knew what I was buying) but a feature I miss.  This is not a free-standing tent.  With most tents, you can set them up and just move them around freely if you'd like because they don't need to be anchored down in order to be set up.  So if I set my tent up somewhere and decide to move it somewhere else (three inches to the left), I have to break it down and set it up again.  Since the setup is so easy it isn't a huge problem, but I kinda miss being able to do that. The other problem with it not being a free-standing tent is you're completely at the mercy of your surroundings.  It needs to be anchored down to the ground, but sometimes you hit an area where the dirt underneath is nothing but rock.  Worse-yet, you set up on a solid rock.  It's not going to work that way unless you improvise and tie down the guy-lines to something heavy enough.
Overall
I love this tent.  It's spacious, well ventilated, light, and versatile.  I want to give the guys at Tarptent a huge hug for this one.  My back sure is happy about it.
References: